15 % off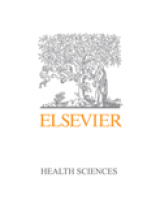 Paperback
The Student Nurse Handbook
, 3rd Edition
Stock Status
Please allow 3 - 4 weeks for delivery.
Publication Date
03-05-2013
View More
This convenient Handbook will be invaluable to students starting out on a pre-registration nursing course. Covering a broad range of topics, from helping understand what tutors and mentors expect, how to plan work, and coping with stress, it will support undergraduates across all aspects of student life.

Key Features

This book will help students to:
Write assignments

Cope with stress

Make the most of clinical placements

Reflect on practice

Understand nursing models, theories and philosophies

Understand medical terminology and nursing jargon

Deal with legal and ethical issues.
ADDITIONAL INFORMATION
ISBN
9780702045790
Table of Content

Becoming and being a nurse. Nursing models. Academic work. Clinical placements. Basics of nursing. Tools of the trade. Cracking the code.. Safe and accurate administration of medicines. Reading and understanding research. Reflective practice and portfolios. Legal issues for students.. Final thoughts. Useful books. Appendices

Author Information
By Bethann Siviter, BSc(Hons), RN, DN Cert, Dip HE, Nurse Consultant, South Birmingham Primary Care Trust, Moseley Hall Hospital, Birmingham, UK; Past Chair of the Association of Nursing Students and former student member of RCN Council, District Nurse Team Leader
Trim
138h x 216w mm
Pages
250
Publication Date
03-05-2013
Stock Status
Please allow 3 - 4 weeks for delivery.
Published Reviews

"This is an excellent and inspirational book for those embarking on a nursing course. The content provides a host of useful and indispensable information for all nursing pathways."
Nursing Standard, January 28 :: vol 23 no 21 :: 2009

Amazon:

'This book is great!!! I take it everywhere I go'

'superb guide for getting started as a pre-registration student'

'full of information you may not want to ask about'

'incredibly pragmatic advice for new students'

'full of handy hints and guidance about placements'

'like a really kind friend or mentor holding your hand when you get nervous'