10 % off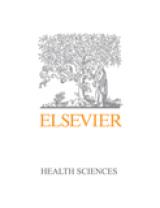 Paperback
Mosby's Pocket Guide to Cultural Health Assessment
, 4th Edition
Stock Status
Please allow 2 - 3 weeks for delivery
Publication Date
19-11-2007
View More
With all of the cultural and ethnic information that could affect patient and family care, POCKET GUIDE TO CULTURAL HEALTH ASSESSMENT, 4th Edition is the perfect portable yet complete reference. This guide discusses the clinical implications of ethnic populations from over 170 countries with a wealth of information on each-from languages spoken to health care beliefs and practices to eye contact. Ideal for everyday use, this handbook is the most comprehensive and portable resource on the market for patient care.

Key Features

Alphabetically organized by country with all sections presented consistently to give you quick access to important cultural information.
Presents comprehensive content on all cultural aspects that affect patient assessment.
Includes brief descriptions of each country's topography and provides maps to illustrate potential environmental etiologies of an illness.
Updated international childhood immunization schedules and the latest information from the World Health Organization provide the most up-to-date healthcare standards from around the world.
Extensive bibliographies give you resources for further information.

New to this Edition

A streamlined and concise format with thumb tabs dividing each section makes this pocket guide the perfect quick reference tool.
Thoroughly updated content includes new country names and their demographics, patient data, health care practices, and other cultural implications that affect care of today's culturally diverse patient population.
New international contributors bring together a wealth of information on the specifics of care for patients from over 170 countries.
Includes more historical and political information for each country to provide current background information.
Increased emphasis on how a population appears in the worldview and how their religion affect decision-making gives you a fuller perspective on each country's culture.
More information on naturalistic healing and practices helps you treat patients from a variety of backgrounds.
ADDITIONAL INFORMATION
ISBN
9780323048347
Table of Content
· Afghanistan
· Albania
· Algeria
· Angola
· Argentina
· Armenia
· Australia
· Austria
· Azerbaijan
· Bahamas
· Bahrain
· Bangladesh
· Barbados
· Belarus
· Belgium
· Belize
· Benin
· Bhutan
· Bolivia
· Bosnia-Herzegovina
· Botswana
· Brazil
· Brunei
· Bulgaria
· Burkina Faso
· Burundi
· Cambodia
· Cameroon
· Cape Verde
· Central African Republic
· Chad
· Chile
· China
· Colombia
· Congo, Democratic Republic of the (Zaire)
· Congo, Republic of the
· Costa Rica
· Côte D'Ivoire (Ivory Coast)
· Croatia
· Cuba
· Cyprus
· Czech Republic
· Denmark
· Djibouti
· Dominica
· Dominican Republic
· Ecuador
· Egypt
· El Salvador
· Eritrea
· Estonia
· Ethiopia
· Finland
· France
· Gabon
· Gambia
· Georgia
· Germany
· Ghana
· Greece
· Grenada
· Guatemala
· Guinea
· Guinea-Bissau
· Guyana
· Haiti
· Honduras
· Hungary
· Iceland
· India
· Indonesia
· Iran
· Iraq
· Ireland
· Israel
· Italy
· Jamaica
· Japan
· Jordan
· Kazakhstan
· Kenya
· Kiribati
· Korea, North
· Korea, South
· Kuwait
· Kyrgyzstan
· Laos
· Latvia
· Lebanon
· Lesotho
· Liberia
· Libya
· Lithuania
· Luxembourg
· Macedonia
· Madagascar
· Malawi
· Malaysia
· Maldives
· Mali
· Malta
· Mauritania
· Mauritius
· Mexico
· Moldova
· Mongolia
· Morocco
· Mozambique
· Myanmar (Union of Burma)
· Namibia
· Nauru
· Nepal
· Netherlands
· New Zealand
· Nicaragua
· Niger
· Nigeria
· Norway
· Oman
· Pakistan
· Panama
· Papua New Guinea
· Paraguay
· Peru
· Philippines
· Poland
· Portugal
· Qatar
· Romania
· Russia
· Rwanda
· Samoa
· Saudi Arabia
· Senegal
· Serbia
· Seychelles
· Sierra Leone
· Singapore
· Slovak Republic
· Slovenia
· Solomon Islands
· Somalia
· South Africa
· Spain
· Sri Lanka
· Sudan
· Suriname
· Swaziland
· Sweden
· Switzerland
· Syria
· Taiwan-NEW
· Tajikistan
· Tanzania
· Thailand
· Timor-Leste-NEW
· Togo
· Tonga
· Tunisia
· Turkey
· Turkmenistan
· Uganda
· Ukraine
· United Arab Emirates
· United Kingdom
· Uruguay
· Uzbekistan
· Venezuela
· Vietnam
· Yemen
· Zambia
· Zimbabwe
· Appendix: Maps
Author Information
By Carolyn D'Avanzo, RN, DNSc, Associate Professor, School of Nursing, University of Connecticut, Storrs, CT
Trim
187 x 111 (4 3/8 x 7 3/8)
Pages
848
Publication Date
19-11-2007
Stock Status
Please allow 2 - 3 weeks for delivery