25 % off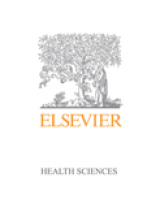 Paperback
Immunology for Medical Students
, 3rd Edition
Stock Status
Please allow 3 - 4 weeks for delivery.
Publication Date
28-06-2016
View More
Comprehensive yet concise and easy to read, this updated edition of Immunology for Medical Students effectively explains complex immunology topics and their relevance in clinical practice. Boasting just the right amount of detail for today's busy medical student, it delivers state-of-the-art coverage of the latest scientific and clinical knowledge in the field. Detailed and explanatory illustrations, combined with clinically relevant examples and cases, offer a unique understanding of the human immune system and its role in protecting us from disease.

Key Features

Designed with a clear focus on the needs of medical students.
Includes overview illustrations at the beginning of each chapter, as well as illustrations with dialogue boxes.
Immunology icons are repeated throughout the text, accompanied by a helpful Icon Key.
Detailed clinical cases demonstrate real-world applications.
Technical boxes point out important scientific advances.
End-of-chapter checklists of learning points facilitate review.

New to this Edition

Student Consult eBook version included with purchase.
This enhanced eBook experience allows you to search all of the text, figures, images, and references from the book on a variety of devices. You'll also access 100 multiple-choice questions to enhance your understanding of the material.
Features 17 new clinical boxes as well as critical revisions to 25 of the clinical boxes featured in the previous edition, providing relevant, practical examples of cases commonly encountered in day-to-day practice.
Presents new material on T Cell Subsets, the molecular and cellular processes involved in their selection and differentiation, and how this knowledge is already translating into clinical developments.
Includes a brand-new chapter titled Regulation of the Immune System.
ADDITIONAL INFORMATION
ISBN
9780702068010
Table of Content

Section 1: Introduction


Introduction to the Immune System


Basic Concepts and Components of the Immune System


Section 2: Antigen-Recognition Molecules

3. Introduction to Antigen Recognition

4. Antigens and Antibody Structure

5. Antibody-Antigen Interaction

6. Antibody Diversity

7. The T-Cell Receptor

8. Major Histocompatibility Complex

9. Review of Antigen Recognition


Section 3: Physiology

10. Antigen Processing and Presentation

11. Lymphocyte Activation

12. Hematopoiesis

13. The Organs and Tissues of the Immune System

14. B-Cell Development

15. T-Cell Development

16. T-Cell Interactions and T-Cell Help

17. Immunological Memory and Homeostasis

18. Regulation of the Immune System

19. Brief Review of Immune Physiology

Section 4: Innate Immunity

20. Constitutive Defenses Including Complement

21. Phagocytes

22. Killing in the Immune System

23. Inflammation

24. Cytokines in the Immune System


Section 5: Immune System in Health and Disease

25. Infections and Vaccines

26. Hypersensitivity Reactions

27. Immediate Hypersensitivity (Type I): Allergy

28. How Autoimmune Disease Develops

29. Antibody-Mediated Hypersensitivity (Type II)

30. Immune Complex Disease (Type III Hypersensitivity)

31. Delayed Hypersensitivity (Type IV) and Review of Hypersensitivity Reactions

32. Primary Immunodeficiency

33. Secondary Immunodeficiency

34. Transplantation

35. Tumor Immunology

36. Bio Pharmaceuticals


Glossary

Index

Author Information
By Matthew Helbert, FRCP, FRCPath, PhD, Consultant Immunologist, Department of Immunology, Manchester Royal Infirmary, Manchester, UK
Trim
276 x 216 (8 1/2 x 10 7/8)
Pages
332
Publication Date
28-06-2016
Stock Status
Please allow 3 - 4 weeks for delivery.