25 % off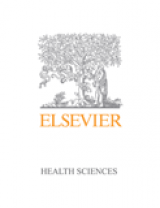 Paperback
Fracture Management for Primary Care and Emergency Medicine
, 4th Edition
Stock Status
Please allow 3 - 4 weeks for delivery.
Publication Date
13-12-2019
Evaluate and treat common fractures and know when to refer uncommon ones to a specialist. This quick, practical resource presents detailed illustrations, video, and current best evidence for imaging and treating fractures so you can make accurate identifications and manage patients with confidence.

Key Features

Quickly find the information you need
through a systematic, logical approach to each fracture.

Accurately identify fractures through an extensive selection of imaging examples.

Apply splints and reduce dislocations successfully thanks to detailed descriptions, illustrations, and narrated video.

Tap into the latest best practices through evidence-based coverage and updated references.

Effectively manage emergency situations using guidelines for emergent referral, greater detail regarding methods for closed reductions for fractures and dislocations, and more.

Benefit from expanded content specifically for the emergency medicine setting, including CT, MRI, and ultrasound imaging, procedural sedation, and discharge reassessment.
Expert Consult™ eBook version included with purchase.
This enhanced eBook experience allows you to search all of the text, figures, and references from the book on a variety of devices.
ADDITIONAL INFORMATION
ISBN
9780323496346
Table of Content
1. Fracture Management in Primary Care and Emergency Medicine Settings
2. General Principles of Fracture Care
3. Finger Fractures
4. Metacarpal Fractures
5. Carpal Fractures
6. Radius and Ulna Fractures
7. Elbow Fractures
8. Humerus Fractures
9. Clavicle and Scapula Fractures
10. Spine Fractures
11. Femur and Pelvis Fractures
12. Patellar, Tibial, and Fibular Fractures
13. Ankle Fractures
14. Calcaneus and Other Tarsal Fractures
15. Metatarsal Fractures
16. Toe Fractures
17. Facial and Skull Fractures
18. Rib Fractures
Appendix (Casting and Splinting)
Author Informaiton
By M. Patrice Eiff, MD, Professor Emerita, Department of Family Medicine, Oregon Health and Science University, Portland, OR, USA and Robert L. Hatch, MD, MPH, Professor, Department of Community Health and Family Medicine, University of Florida, Gainesville, FL, USA
Trim
235 x 191 (7 1/2 x 9 1/4)
Pages
440
Publication Date
13-12-2019
Stock Status
Please allow 3 - 4 weeks for delivery.