25 % off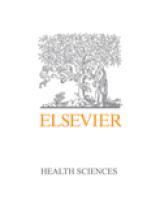 Paperback
Workbook for Mosby's Respiratory Care Equipment
, 9th Edition
Stock Status
Please allow 3 - 4 weeks for delivery.
Publication Date
25-06-2013
View More
Prepare yourself for success in the classroom and the clinical setting with the Workbook for Mosby's Respiratory Care Equipment, 9th Edition. This versatile workbook is specifically designed to clearly and concisely reinforce the most clinically relevant information presented in the text. Featuring a wide variety of exercises ranging from crosswords and case studies to NBRC-style multiple-choice questions, this workbook will provide focus and improve your study time.

Key Features

Matching, labeling, short answer, crosswords, calculations, and case study exercises
reinforce the most clinically relevant information in the textbook. The wide variety of exercises gives you several ways to assess your knowledge and identify the areas where more practice is needed.
Critical thinking questions help you apply and analyze content learned from the text.
NBRC-style questions prepare you for what you will encounter when taking the NBRC credentialing exam.
Learning objectives reflect the same objectives from the textbook and reinforce the basic concepts to be learned from each chapter.

New to this Edition

NEW! Additional exercises further prepare you for the NBRC credentialing exam.
ADDITIONAL INFORMATION
ISBN
9780323096225
Table of Content

I. INTRODUCTION to BASIC RESPIRATORY SCIENCE

Chapter 1: Basic Physics for the Respiratory Therapist

Chapter 2: Principles of Infection Control

II. MEDICAL GASES

Chapter 3: Manufacture, Storage, and Transport of Medical Gases

Chapter 4: Administering Medical Gases: Regulators, Flowmeters, and Controlling Devices

III. AIRWAY MANAGEMENT

Chapter 5: Airway Management Devices and ACLS

Chapter 6: Humidity and Aerosol Therapy

Chapter 7: Lung Expansion Therapy Devices

IV. ASSESSMENT

Chapter 8: Assessment of Pulmonary Function

Chapter 9: Assessment of Cardiovascular Function

Chapter 10: Blood Gas Monitoring

Chapter 11: Sleep Diagnostics

V.CRITICAL CARE AND EXTENDED CARE DEVICES

Chapter 12: Introduction to Ventilators

Chapter 13: Mechanical Ventilators: General-Use Devices

Chapter 14: Infant/Pediatric Ventilators

Chapter 15: Home-Care, Transport Devices, Alternative Devices

Chapter 16: Simulation Equipment

Author Information
By J. M. Cairo, PhD, RRT, FAARC, Dean of the School of Allied Health Professions, Professor of Cardiopulmonary Science, Physiology, and Anesthesiology, Louisiana State University Health Sciences Center, New Orleans, LA
Trim
276 x 216 (8 1/2 x 10 7/8)
Pages
200
Publication Date
25-06-2013
Stock Status
Please allow 3 - 4 weeks for delivery.