25 % off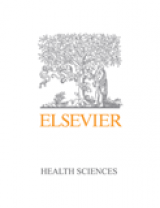 VitalSource eBook
Examination Medicine - E-Book
, 6th Edition
Please note that this eBook does not include the DVD accompaniment. If you would like to have access to the DVD content, please purchase the print copy of this title.
An updated version of the successful examination guide assisting students preparing for the Physicians Part 1 Exam
Examination Medicine remains a bestselling text among Fellow of the Royal Australasian College of Physicians (FRACP) candidates preparing for the Physicians Part 1 Examination.
This updated edition of Examination Medicine builds on its popular original format with abundant new content.
This highly respected medical resource is the perfect information source for students undertaking exam preparation.
Examination Medicine, 6th Edition: A guide to physician training will be widely used by medical students as well as candidates for other specialty examinations involving medical clinical exams.


Key Features

· key facts candidates must understand for the fellowship examination
· information on history-taking, the examination and medical investigations
· updated long and short cases


New to this Edition

· a fresh, more simplified layout
· helpful 'hint" boxes to help candidates with technique and difficult cases
· the addition of imaging - x-rays and scans likely to be shown in the examination are now incorporated with their appropriate long or short case
· the latest College exam formats and possible future changes to the examination

ADDITIONAL INFORMATION
ISBN
vst-9780729579117
Table of Content

Foreword

Preface

Acknowledgements

A historical note

Abbreviations

Chapter 1 Basic training requirements

Chapter 2 The written examination

Chapter 3 The clinical examination

Chapter 4 The long case

Chapter 5 The cardiovascular long case

Chapter 6 Common long cases

Chapter 7 The gastrointestinal long case

Chapter 8 The haematological long case

Chapter 9 The rheumatological long case

Chapter 10 The endocrine long case

Chapter 11 The renal long case

Chapter 12 The neurological long case

Chapter 13 The infectious diseases long case

Chapter 14 The short case

Chapter 15 Common short cases

Further reading

Index

Author Information
By Nicholas J. Talley, MB BS. (Hons.) (NSW), M.MedSc. (Clin Epi.) (Newc.), M.D. (NSW), Ph.D. (Syd.), FRACP, FAFPHM, FRCP (Lond.), FRCP (Edin.), FACP, FACG, AGAF , Pro Vice-Chancellor and Dean (Health and Medicine), and Professor, University of Newcastle, Callaghan, NSW, Australia; Senior Staff Specialist, John Hunter Hospital, Newcastle. Australia; Adjunct Professor of Medicine, Mayo Clinic, Rochester, MN, USA; Adjunct Professor of Medicine, University of North Carolina, USA; Foreign Guest Professor, Karolinska Institute, Sweden; President-Elect, Royal Australasian College of Physicians and Simon O'Connor, FRACP DDU FCSANZ , FRACP, DDU, FCSANZ Cardiologist, Canberra Hospital, Canberra, ACT, Australia
Pages
400
Publication Date
02-12-2009