10 % off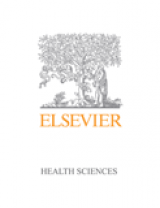 Paperback
Perioperative Nursing
, 2nd Edition
An Introduction
Publication Date
11-04-2016
View More
Perioperative Nursing 2e has been written by local leaders in perioperative nursing and continues to deliver a contemporary, practical text for Australian and New Zealand perioperative nurses.
Appropriate for nursing students and graduates entering the perioperative environment, Perioperative Nursing, 2e offers a sound foundational knowledge base to underpin a perioperative nursing career. This unique text will also be of value to those undertaking postgraduate perioperative studies, as well as to more experienced perioperative nurses seeking to refresh their knowledge or expand their nursing practice.

This essential title examines the roles and responsibilities of nurses working within a perioperative environment, providing an overview of key concepts in perioperative care. The scope of this book addresses anaesthetic, intraoperative and postanaesthetic recovery care, as well as day surgery and evolving perioperative practices and environments.


Key Features

Research boxes where appropriate
Feature boxes on special populations, such as paediatric, geriatric and bariatric patients
Emphasis is placed on the concept of the patient journey, working within interprofessional teams, communication, teamwork, patient and staff safety, risk management strategies and medico-legal considerations.

New to this Edition

Now endorsed by ACORN
Aligns with the 2016 ACORN and PNC NZNO Standards
Reflects the latest national and international standards, including the NSQHS Standards, the new NMBA Standards for Practice for Registered and Enrolled Nurses and the WHO Surgical Safety Checklist
Includes two new chapters: The perioperative team and interdisciplinary collaboration and Perioperative patient safety
Supporting online resources are available on evolve.

ADDITIONAL INFORMATION
ISBN
9780729542333
Table of Content

Chapter 1 - Perioperative nursing
Chapter 2 - The perioperative team and interdisciplinary collaboration
Chapter 3 - Perioperative patient safety
Chapter 4 - Medico-legal aspects of perioperative nursing practice
Chapter 5 - The perioperative environment
Chapter 6 - Infection prevention and control
Chapter 7 - Assessment and preparation for surgery
Chapter 8 - Patient care during anaesthesia
Chapter 9 - Intraoperative patient care
Chapter 10 - Surgical interventions
Chapter 11 - Wound healing
Chapter 12 - Postanaesthesia nursing care
Chapter 13 - Evolving models of care in perioperative environments

Author Informaiton
By Lois Hamlin, RN, BN, MN (Nurse Ed), DNurs, OTCert, ICCert, FACN, Foundation Fellow ACORN, Independent Perioperative Nursing Consultant; Former Senior Lecturer, (then) Faculty of Nursing, Midwifery & Health, University of Technology, New South Wales , Australia ; Menna Davies, RN, MHlthSc (Nsg), GradDip Hlth Law, Cert (Periop Nsg), Cert (Sterilising Tech), FACN, FACORN , Education Consultant and Director of Health Education & Learning Partnerships, New South Wales, Australia; Marilyn Richardson-Tench, RN, RCNT(UK), BappSc (Adv Nsg), Cert Clin Teach (UK), Cert.Anaes.(UK) Cert.OR Tech&Man, MEdStud, PhD, Education Consultant, Former Senior Lecturer, Acute Care, School of Nursing and Midwifery, Victoria University and Sally Sutherland-Fraser, RN, BEd (Adult Ed), MEd, Cert (Periop Nsg), Cert IV TAE, MACN, FACORN, Education Consultant and Director of Health Education & Learning Partnerships, New South Wales, Australia
Trim
245 x 175mm
Pages
366
Publication Date
11-04-2016
Stock Status
In Stock
Published Reviews

Book review by Emma Woodhouse, Manager of Higher Education, Australian College of Nursing (ACN)

"This textbook is an exceptional resource for anyone who is working in the perioperative environment or studying perioperative nursing practice.

The book has been edited by Dr Lois Hamlin, Menna Davies, Dr Marilyn Richardson-Tench and Sally Sutherland-Fraser, all preeminent authors in the field of perioperative nursing with a wealth of clinical and academic expertise. The content covers a wide array of perioperative topics with contributors ranging from registered nurses, clinical nurse educators and consultants to nurses in academic and research roles each of whom have provided a considered insight into perioperative nursing practice.

Building on the sterling work in the first edition, the major focus in the second edition is to emphasise the significance of interdisciplinary teamwork, in particular the non-technical and environmental human factors that are vital for effective patient centred care. Cultural capability is interwoven into all of the chapters, as is the needs of special populations.

Other major themes in the book include an overview of the history and future of perioperative nursing, perioperative patient safety, risk management for patients and staff in the perioperative environment, infection prevention and control and the evidence based practice necessary for assessment and preparation of the patient for surgery. Three of the thirteen chapters are dedicated to the nursing care of the patient during anaesthesia, intraoperatively and post anaesthesia with a further chapter devoted to surgical intervention including the phases of surgery, instrumentation and suturing. Another chapter presents the importance of the anatomy and physiology behind post-surgical wound healing highlighting the need for a diligent surgical consciousness.

The final chapter fittingly discusses the evolving models of nursing care in perioperative environments outlining the effects of technology on nursing care and the patient's perioperative experience in more ambulatory settings.

Each chapter concludes with a critical thinking exercise relating to the content. These exercises are useful tools for gathering evidence of continuing professional development as part of the requirements for standards for practice by the Nursing and Midwifery Board of Australia. They can also provide prompts for reflection upon practice for portfolio building. These exercises increase the appeal of this book from novice to expert clinical nurses, as well as providing useful tools for clinical nurse educators in the perioperative field.

One critical thinking exercise asks the reader to formulate an answer to the often asked question "when are you going to take up real nursing again?" Perioperative nurses who are passionate about their specialty may find this question resonates with their own experiences with colleagues who fail to comprehend the value of their role. This textbook actively promotes the importance of this often undervalued and misunderstood area of nursing specialty.

Perioperative Nursing: An Introduction is used as a prescribed textbook in many of the postgarduate perioperative subjects at the Australian College of Nursing and the recent revision has allowed for closer alignment to some of the topics covered in our specialty electives, especially the instrument/circulating nurse and day surgery units of study.


Book review by Dr Sharon Latimer, Lecturer, School of Nursing and Midwifery, Griffith University



The second edition of Perioperative nursing: An introduction is an easy to read book and a valuable resource for all perioperative nurses. The book editors; Hamlin, Davies, Richardson-Tench and Sutherland-Fraser, have completely revised the first edition of this text. The book layout is appealing and includes detailed and clearly labelled figures and diagrams. An added bonus is the access to online learning resources included with print purchase, such as case studies and further readings, tailored for instructors and students.

The editors gathered an impressive team of perioperative experts to write this thirteen-chapter book. Each chapter features the patient at the centre of care delivery. The discussion of culturally sensitive patient care is a welcome inclusion. Patient safety and quality, evidence-based care is a strong feature of this book. The authors effectively unpack the complexities of patient safety by explaining how human factors contribute to healthcare errors, and how these errors can be prevented. Current Australasian and international safety and quality clinical healthcare and perioperative practice standards are also embedded in each chapter. Dispersed throughout book are 'feature' and 'research' boxes providing the reader with additional stimulus related to the discussion topic. Critical thinking exercises also help the reader synthesise and apply the information. Finally, each chapter ends with a comprehensive list of relevant electronic resources for the reader to explore.

The book is logically structured; guiding the reader through all aspects of perioperative nursing. First, the history, philosophy, and professional practice of perioperative nursing are described. Patient safety principles in the delivery of perioperative nursing care are situated and explored in chapter's two to six. Collectively, these five chapters set the tone for the text. The topics covered in these five chapters include the culture and content of the perioperative team, risk management, medico-legal aspects, the impact of the perioperative environment on patient safety, and infection prevention and control considerations.

The second half of the book follows the patients' surgical journey from pre-admission, to intraoperative care and then post-operative care. Chapter's seven to twelve outline the perioperative nursing care considerations during the pre-admission phase, undertaking a preoperative assessment and preparation, delivering anaesthesia care, intraoperative patient care considerations, the nurses' role during surgical interventions, wound healing, and postanaesthesia care. The final chapter discusses current care models in perioperative environments including ambulatory care settings such as day surgery and post-discharge management. The authors have produced a quality text that accurately reflects contemporary perioperative nursing care and is a valuable resource for clinicians, students, and instructors.