25 % off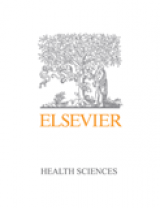 Paperback
Immunology for Medical Students, Updated Edition
With STUDENT CONSULT Online Access
Stock Status
Please allow 3 - 4 weeks for delivery.
Publication Date
12-02-1950
View More
Presenting a unique balance between science and clinical relevance, this new text is a concise, well-illustrated overview of immunology for students. Focusing on what medical students need to know, it fills the niche for a reader-friendly, patient-oriented text in this challenging field. Clinical boxes include real patient scenarios, making the textbook interesting and relevant. Experimental detail is kept to a minimum, used only where it helps the student understand difficult concepts. It also provides a superb review of major components in immunological interaction: important molecules, specific immune response and role of innate response in complementing specific response, and immunity to microbes.

The smart way to study!
Elsevier titles with STUDENT CONSULT will help you master difficult concepts and study more efficiently in print and online! Perform rapid searches. Integrate bonus content from other disciplines. Download text to your handheld device. And a lot more. Each STUDENT CONSULT title comes with full text online, a unique image library, case studies, USMLE style questions, and online note-taking to enhance your learning experience.

Key Features

Your purchase of this book entitles you to access www.studentconsult.com at no extra charge. This innovative web site offers you...
Access to the complete text and illustrations of this book.

Integration links to bonus content in other STUDENT CONSULT titles.

Content clipping for your handheld.

An interactive community center with a wealth of additional resources.

The more STUDENT CONSULT titles you buy, the more resources you can access online!

Look for the STUDENT CONSULT logo on your favorite Elsevier textbooks!
ADDITIONAL INFORMATION
ISBN
9780323035767
Table of Content
Section I
Introduction
1. Basic concepts and components of the immune system
2. Basic components

Section II
Antigen-recognition molecules
3. Introduction to antigens and recognition
4. Antigens and antibody structure
5. Antibody-antigen interaction
6. Antibody diversity
7. The T cell receptor
8. Major histocompatility complex
9. Review of antigen recognition

Section III
Physiology
10. Antigen processing and presentation
11. Lymphocyte activation
12. Haematopoiesis
13. The organs and tissue of the immune system
14. B cell development
15. T cell development
16. Cell-cell interaction in generating effector lymphocytes
17. Immunological memory
18. Review of immune physiology

Section IV
Innate immunity
19. Constitutive defenses including complement
20. Phagocytes
21. Killing in the immune system
22. Inflammation
23. Review of innate immunity

Section V
Immune system in health and disease
24. Infections and vaccines
25. Hypersensitivity reactions
26. Immediate hypersensitivity (type I): allergy
27. Autoimmunity
28. Antibody-mediated hypersensitivity (type II)
29. Immune complex disease (type III hypersensitivity)
30. Delayed hypersensitivity (type IV)
31. Primary immunodeficiency
32. Secondary immunodeficiency
33. Transplantation
34. Tumor immunology
35. Integration of the immune system with other regulatory systems
36. Review of immunity in health and disease

Index
Author Information
By Roderick Nairn, PhD, Professor and Chair, Department of Medical Microbiology and Immunology, Creighton School of Medicine, Omaha, NE; and Matthew Helbert, MBChB, MRCP, MRCPath, PhD, Consultant Immunologist, Immunology, Manchester Royal Infirmary, Manchester, UK
Pages
344
Publication Date
12-02-1950
Stock Status
Please allow 3 - 4 weeks for delivery.