10 % off
New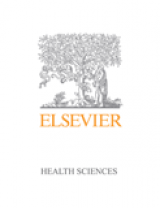 Paperback
Rehabilitation in Spinal Cord Injuries
Stock Status
Please allow 3 - 4 weeks for delivery.
Publication Date
01-06-2020

Key Features

Chapters about biomechanics, paediatric spinal cord injury, high cervical injuries, and the tetraplegic upper limb
Insight into the lived experience of individual
with a spinal cord injury
Documents patient journey from injury to total rehabilitation
Appendix of common assessments for spinal cord injuries
Evidence-based Practice Points enables clinician to quickly and easily translates theory to practice
Includes an eBook with purchase of the print book
ADDITIONAL INFORMATION
ISBN
9780729543200
Table of Content
1. Introduction to spinal cord injury
2. From the field to the emergency department and beyond
3. The shifting paradigm in the physiotherapy treatment of spinal cord injuries
4. Early hospital management of the patient with a spinal cord injury
5. Biomechanics
6. Functional independence
7. Use of electrotherapeutic techniques in the treatment of spinal cord injury
8. Modes of transport
9. Ambulation
10. Hydrotherapy for a patient with an SCI
11. Incomplete spinal and peripheral nerve lesions
12. Overview of sexual function and changes post-SCI
13. Exercise and sport and the person with spinal cord injury
14. Paediatric spinal cord injury
15. Ageing with a spinal cord injury
16. High cervical lesions
17. Ageing with a spinal cord injury
18. Common complications of spinal cord injury
19. Psychological sequelae of spinal cord injuries
20. Sociological issues associated with spinal cord injury - a personal journey
21. The hazards of living with a spinal cord injury
Author Informaiton
By Jackie Reznik, BAppSci, MAPA, MCSP, GradDip(Teaching), GradDip(Neurology), PhD, International Physiotherapy Consultant, Kfar Yona, Israel; Townsville, Queensland, Australia
Trim
260 x 184 (7 1/4 x 10 1/4)
Pages
15
Publication Date
01-06-2020
Stock Status
Please allow 3 - 4 weeks for delivery.