25 % off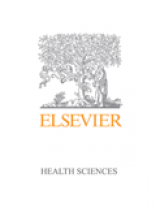 Paperback
An Introduction to Western Medical Acupuncture
Stock Status
Please allow 3 - 4 weeks for delivery.
Publication Date
24-11-2008
View More
This book is a clear and practical introductory guide to the practice of medical acupuncture. It describes the Western medical approach to the use of acupuncture as a therapy following orthodox diagnosis. The text covers issues of safety, different approaches to acupuncture, basic point information, clinical issues and the application of acupuncture in clinical conditions, especially in the treatment of pain.

Key Features

A practical guide to the principles and clinical practice of medical acupuncture
A clear guide to the neurophysiological principles which underlie medical approaches to acupuncture
A basic explanation of the different styles of medical acupuncture treatment
Allows the reader to accrue the practical knowledge necessary before beginning to work with medical acupuncture.
ADDITIONAL INFORMATION
ISBN
9780443071775
Table of Content
Glossary
1. Introduction

Section I Principles
2. An overview of Western medical acupuncture
3. Neurological mechanisms I: local effects
4. Neurological mechanisms II: segmental analgesia
5. Neurological mechanisms III: extrasegmental analgesia
6. Neurological mechanisms IV: central regulatory effects
7. Myofascial trigger points
8. Traditional Chinese acupuncture reinterpreted

Section II: The evidence
9. Clinical research into the effectiveness of acupuncture
10. Evidence on the safety of acupuncture

Section III: Practical aspects
11. Preparation for treatment
12. Effective needling techniques
13. Safe needling
14. Other acupuncture techniques

Section IV: Treatment manual
15. Treatment guidelines
16. Reference charts: points and innervation

References
Index

Author Information
By Adrian White, MA MD BM BCh, Honorary University Fellow, Primary Care Group, Institute of Translational and Stratified Medicine (ITSMED), University of Plymouth, UK; (formerly) Editor, Acupuncture in Medicine; Mike Cummings, MB ChB DipMedAc, Medical Director, British Medical Acupuncture Society, Royal London Hospital for Integrated Medicine, London, UK and Jacqueline Filshie, MBBS FRCA DipMedAC, Consultant Anaesthetist and Honorary Senior Lecturer, The Royal Marsden NHS Foundation Trust, The Lister Hospital, London, UK
Trim
246 X 189 (7 11/16 x 9 7/16)
Pages
242
Publication Date
24-11-2008
Stock Status
Please allow 3 - 4 weeks for delivery.
Published Reviews
"Written by a trio of very experienced acupuncture practitioners, clinicians and researchers, the book is a 'one-stop shop' in Western medical acupuncture...I am confident that it will be able to stand on its own and establish itself as THE modern manual of medical acupuncture. I do not think I will stop recommending it."
Focus on Alternative and Complimentary Therapies, 2009